The ship model blanks are made from laminated slabs of abachi wood.
Waterjet Cutting System
The components are created with computer assistance and manufactured by means of a high-pressure waterjet cutting system (3500 bar). The machine cuts the parts very accurately and efficiently in rapid succession. The water absorption of the cut surface is very low and allows a further processing of the blanks after a drying time of one day. The machine has a working range of 2000 mm x 4000 mm and is also capable of cutting up to 120 mm thick steel.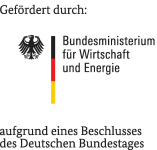 5-Axis Milling Machine
The laminated ship blanks are completely machined on the Huber & Grimme 5-axis milling machine using coarse and fine milling operations, and thereby achieve a nearly perfect surface finish. With a one-time manual surface sanding after the milling process, the model is prepared for further processing. With the use of 5-axis milling machine, the requirements of the ITTC are met in terms of accuracy of model ships (± 1 mm, 0.5 % Lpp). The machine has a maximum working range of 8000 mm x 2500 mm x 1200 mm, a processing speed of up to 40 m/min. and a maximum speed of 24,000 rpm.